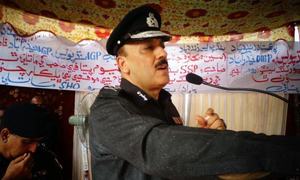 Special Corr
The Sindh High Court (SHC) on Thursday extended until April 19 an interim order restraining the provincial government from removing Inspector General Police (IGP) AD Khawaja from his post.
A two-member SHC bench headed by Justice Munib Akhtar put off the hearing as the applicant's counsel failed to turn up due to an engagement before the Supreme Court in Islamabad.
The bench observed that the matter would be heard on a day-to-day basis starting with the next hearing.
On April 6, the bench had passed an interim order directing IGP Khawaja to continue his duty as provincial police chief after his services were surrendered to the federal government by the Sindh Cabinet on March 31.
The cabinet had also approved the appointment of Additional IG Sardar Abdul Majeed Dasti as the provincial police chief before the bench issued its interim order.
Comments to be filed on Dr Asim's ECL petition
The SHC on Thursday directed the Interior Ministry, National Accountability Bureau (NAB), and the Sindh government to file their respective comments on a petition filed by PPP leader Dr Asim Hussain seeking removal of his name from the Exit Control List (ECL).
A division bench headed by Justice Junaid Ghaffar put off the case for two weeks.
Dr Asim had on Wednesday petitioned the SHC for removal of his name from the ECL in order to allow for his travel abroad for medical treatment.
Hussain's petition said a medical board had recommended that he undergo spinal surgery abroad.
The close aide of former president Asif Ali Zardari was released from a sub-jail set up for him at the Jinnah Postgraduate Medical Centre on March 31, after spending a little over 19 months in detention.
SHC assesses maintainability of petition against SSP Malir
A two-judge bench of the SHC headed by Justice Junaid Ghaffar asked the petitioner to satisfy the court on the maintainability of his petition against Senior Superintendent of Police Malir Rao Anwar.
The bench asked former SSP Niaz Khoso (the petitioner), who had appeared in person, to cite the high court's orders in this regard.
Previously, Khoso, represented by Advocate Rashid A. Razvi, alleged in his petition that Anwar had amassed substantial wealth through illegal and corrupt practices, including land grabbing and money laundering, as SSP Malir over the past nine years.
He also questioned how SSP Anwar had managed to remain posted at the Airport police station since 1984.
"He has always chosen to be an officer at Airport police station since he was assistant sub-inspector, sub-inspector and Inspector," the former SSP said.
The petitioner had said that even when Anwar was promoted to the rank of SP, he again chose to be posted as SSP Malir.
He also asked how, when SSP Anwar's declared monthly income was about Rs70,000, he had 'acquired' House No 133 in F-10/4, Islamabad, whose worth was "well over Rs500 million".
Ex-SSP Khosa also accused SSP Anwar of being involved in money laundering and travelling abroad extensively.