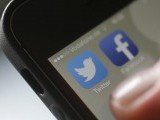 Our Correspondent
LAHORE: Husbands threatened two sisters with divorce after a cyber criminal uploaded their pictures on fake Facebook profiles. The two victims of this crime reached a district and sessions court to seek the filing of a case against unidentified suspects.
Nabila, a petitioner, said in the plea that they sought the immediate arrest of the culprits who created fake IDs with their names. She added that the actions of the suspects put their married lives into jeopardy. She contended that both belonged to a financially-disadvantaged family and none of the sisters were on Facebook. However, their in-laws noticed one of the forged accounts to which her sister's pictures had been uploaded.
The family members also noticed the impropriate comments posted against the pictures, causing uproar in the house. The in-laws of her sisters started taunting her sister and she fell into depression. Nabila said her sibling tried to commit suicide on two occasions due to the duress.
The petitioner said she was leading a happy life, but was now embroiled in a daily battle with her in-laws. Nabila stressed she did not have a Facebook account and nor did she have a clue over who was operating the ID in the names of both sisters.
She requested the court to order the FIA director to register an FIR and arrest the culprits immediately to protect their married lives.
Additional district & sessions judge Rafaqat Ali Gondal sought comments from the FIA director, who submitted his reply which said the matter had been referred officers concerned for inquiry. The judge fixed the next date for arguments.