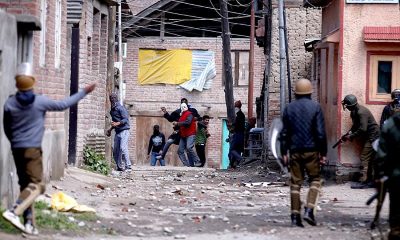 REUTERS
Three people were killed and more than a dozen injured on Sunday when police clashed with protesters during a by-election in Srinagar in India-held Kashmir (IHK), an official said.
Suspected separatist factions in Kashmir had called for a boycott of the by-polls, resulting in heightened security and low voter turnout when the polling began.
In Budgam district, police initially used tear gas to counter stone-pelting protesters but then opened fire, killing three people, a senior police official told Reuters.
Overall, more than a dozen people were injured during the clashes across central IHK on Sunday, the official said.
The by-election in Srinagar is being held to fill a vacant seat in the Lok Sabha, India's lower house of Parliament.
A second by-poll in the state for a separate Lok Sabha seat is set to take place on April 12 in Anantnag. The results of both polls are set to be announced on April 15.
Held Kashmir has been in a phase of unrest since last year when Indian security forces killed Hizbul Mujahideen commander Burhan Wani.
The violence since then, largely in the form of troops firing on civilian crowds with shotguns after protesters throw stones, has left 84 civilians dead and more than 12,000 civilians and security force personnel wounded.