CHIANG RAI: Rescue teams in northern Thailand were giving crash courses in swimming and diving on Wednesday as part of complex preparations to extract a young soccer team trapped in a cave, and hoping for a swift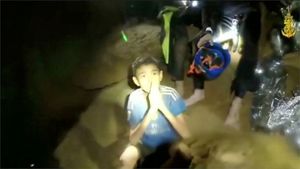 end to their harrowing 11-day ordeal.
Divers, medics, counsellors and Thai navy SEALS were with the 12 schoolboys and a 25-year-old assistant coach, providing medicines and food while experts assessed conditions for getting them out safely — a task the government said would not be easy.
"The water is very strong and space is narrow. Extracting the children takes a lot of people," Deputy Prime Minister Prawit Wongsuwan told reporters. "Now we are teaching the children to swim and dive," he said, adding that if water levels fell and the flow weakened, they would be taken out quickly.
The SEALS posted photographs on Facebook showing their members working in chest-deep water in the cave, adding that it was pumping water as "fast as possible" as it prepares to bring out the stranded group. About 120 million litres of water had been pumped out by late on Tuesday.
ARTICLE CONTINUES AFTER AD
It was unclear what the options were to get the "Wild Boar" team out of the Tham Luang caves in Chiang Rai province and how they would be steered through tight, fluid conditions and uncertain weather. Experts say divers have required three hours to reach the boys, located about 4 km from the mouth of the cave.
The group was discovered by the SEALS and two British cave diving experts on Monday, having been incommunicado since June 23, when a post-practice outing went awry, prompting the high-profile search and rescue effort.
The multinational operation has included divers from the Australian Federal Police, US military personnel, British cave experts and teams from China, Japan, Laos and Myanmar.
The Thai army has sent in 31 divers to support the navy's SEALS, a spokesman said.