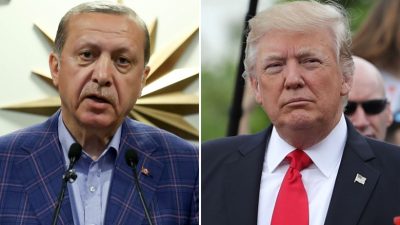 Web Desk
The Trump administration issued one mightily mixed message Monday.
President Donald Trump congratulated Turkish President Recep Tayyip Erdogan on a contested referendum that granted him broad new powers and deepened concern about the NATO ally's growing authoritarian ways. Trump's outreach to Erdogan put him on a very short list of those who praised the results, including Hamas, the Palestinian militant group labeled a terrorist organization by the United States.
Just over a mile away, State Department officials wagged a finger, noting widespread voting irregularities that gave Erdogan his razor-thin victory and warning Turkey to protect all its citizens' rights and freedoms.
Trump's call and the internal administration disconnect raised eyebrows, not least because Turkey has already cast a shadow over the administration. As a candidate, Trump admitted his family's business interests there create a conflict of interest — and that was before revelations that former National Security Adviser Michael Flynn had been operating as a foreign agent on behalf of Turkish interests while advising Trump.
But administration officials and analysts point to Ankara's crucial role in the battle against ISIS as they outline the thinking behind Trump's decision to pick up the phone Monday. In the balance between US interests and American values, they say the President feels Turkey's importance on foreign policy outweighs any concerns about its government's policies.
"The President is aware" of concerns about Erdogan's growing authoritarianism, a senior administration official said. "On the other hand, Turkey is a vital NATO ally in the counterterrorism field and I think he felt that in those competing constituencies, he needed Turkey with us in that fight and he let other elements in the government address the referendum."
Spokesperson Sarah Huckabee Sanders said the White House has no apologies to make about the call. "No," she said when asked if Trump had any regrets. "The President is putting American safety first and foremost and why would he ever regret taking steps to protect Americans."
The official acknowledged that "there's a tension" between Turkey's role as a US ally and the ways Erdogan's rule runs counter to US values. "That's one of the situations you find yourself in. If your policy is America First and protecting America, there are times when you're going to be picking from some imperfect options."
That tension has existed for decades when it comes to Turkey, which has undermined US sanctions on Iran and supports terror groups, analysts say. President Barack Obama came into office viewing the country as a model for Muslim democracies. After a few years, particularly after Erdogan brutally crushed internal descent in 2013, Obama distanced the US, but maintained the partnership.
That reflects a long-standing pattern, said Blaise Misztal, national security director at the Bipartisan Policy Center. "US policy has never figured out whether we see Turkey as a geostrategic, geopolitical asset or whether we value Turkey for the nature of its government," Misztal said.
While the split between Trump and the State Department is "well within the traditional vein of US schizophrenia about Turkey policy," Misztal said "there is something unique about the fact that the company of other leaders that chose to call Erdogan yesterday included Hamas, Azerbaijian and Djibouti. This was maybe a step we've gone further than before."
Analysts including Misztal speculate that Trump might have called Erdogan because there were no senior national security officials in the White House to advise against it. National Security Adviser H.R. McMaster was in Afghanistan, while his deputy Dina Powell was traveling the Middle East with Defense Secretary Gen. James Mattis.
Trump is courting Erdogan as the Turkish leader continues to rail against the US, accusing former senior government officials and politicians of conspiring to help "terrorists" in the 2016 coup attempt against him. The ensuing crackdown left more than 290 people dead and 1,400 injured and has sparked an ongoing hunt within Turkey for perceived conspirators.
Trump's overtures also highlight a growing US-EU split over how to deal with Turkey, a vital ally in his top foreign policy priority of defeating ISIS.
Right now, that fight is taking priority, said James Jeffrey, a US former ambassador to Turkey. "We're in a really serious global security situation with Syria and Turkey is critical to that — and that weights toward utility vs. values, to be very blunt," said Jeffrey, now a distinguished fellow at the Washington Institute for Near East Policy.
That's particularly true as the anti-ISIS coalition prepares to retake Raqqa, the ISIS stronghold in Syria. The US military's most effective proxy force is the Kurds, who are seen by Turkey as an enemy and existential threat. Before the referendum, it would have been political suicide for Erdogan to agree to the US allying with the Kurds.
"Now that referendum is over, it might make it easier for Erdogan to accept, but before it would have been impossible," Jeffrey said. "The administration was wise to wait. We need Turkey on board for Raqqa."
The brief White House statement about the leaders' call said the two discussed the ISIS fight and the need "to fight against all groups that use terrorism to achieve their ends."
Jeffrey sees the call as part of Trump's effort to cultivate better overall relations with Erdogan. Beyond the fact that the President's family has two "Trump Towers" in Istanbul, Erdogan is also the sort of strongman leader the US president admires.
In a 2015 interview with Breitbart news, Trump said "I have a little conflict of interest 'cause I have a major, major building in Istanbul. And it's a tremendously successful job. It's called Trump Towers. Two towers. Instead of one. Not the usual one. It's two. And I've gotten to know Turkey very well, and they're amazing people. They're incredible people. They have a strong leader."