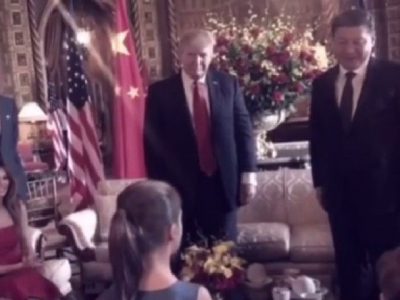 By News Desk
Chinese president and his wife were pleasantly surprised on Saturday when Donald Trump's grandchildren sang for them in Mandarin.
The US president is hosting his Chinese counterpart at his Palm Beach resort, Mar-a-Lago.
The 'Three character classic' performance video was posted on Instagram by proud mother Ivanka Trump.
"Very proud of Arabella and Joseph for their performance in honor of President Xi Jinping and Madame Peng Liyuan's official visit to the United States. 欢迎 (welcome)!," Ivanka wrote.
According to The Telegraph, Arabella, who is just five years old, has been learning the language since she was a toddler.
Trump, China's Xi dine ahead of talks on security, trade
The US leader appeared confident when Xi arrived at the Florida venue, even hazarding a joke about his own reputation as a dealmaker.
"We had a long discussion already. So far, I have gotten nothing. Absolutely nothing," he said to laughs from the delegation. "But I can see that, I think long-term, we are going to have a very, very great relationship and I look very much forward to it."