AMESBURY: Two people are critically ill in hospital after suspected exposure to an "unknown substance" near the English town where a former Russian spy was poisoned with a nerve agent,officials said on Wednesday.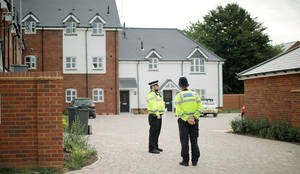 Counterterrorism police, who the led the investigation into the poisoning of Sergei Skripal and his daughter Yulia, said they were assisting local police in the investigation which has been declared a "major incident" by the emergency services.
Scientists at Britain's defence laboratory at Porton Down are carrying out tests to try and establish if there is any connection between the two incidents, British media reported.
The couple, a 45-year-old man and a 44-year-old woman, were discovered unconscious at a house in a quiet, newly-built area in Amesbury, a village near the prehistoric Stonehenge monument.
ARTICLE CONTINUES AFTER AD
Local man Sam Hobson, 29, said he was a friend of the pair, identifying them as Charlie Rowley and Dawn Sturgess. He said that Sturgess fell ill first then Rowley later on. "He was sweating loads, dribbling, and you couldn't speak to him, he was making funny noises and he was rocking backwards and forwards," Hobson said. "It's like he was in another world."
Amesbury is about 12 kms from Salisbury, where the Skripals were found slumped on a bench in March in an incident that sparked a bitter diplomatic crisis with Russia.
In Salisbury, local residents said they were "shocked" that their quiet area was again hitting the headlines. "I was shocked to hear that something had happened so soon after the last contamination scare," said Patrick Hillman.
The Skripal poisoning "really affected business and life in general in Salisbury" in recent months, he said. "It is a bit of a scare," said John Reid, 84.
The two patients "are both currently receiving treatment for suspected exposure to an unknown substance at Salisbury District Hospital," a police statement said. "They are both in a critical condition." It is the same hospital where the Skripals were treated.
A spokesman for Public Health England (PHE) said "it is not believed that there is a significant health risk to the wider public." Wiltshire's Police and Crime Commissioner Angus Macpherson said there was "no reason to think it's connected" to the Skripal case.
Skripal, 67, and his 33-year-old daughter Yulia, who was visiting from Moscow, collapsed on March 4 in Salisbury and were treated for an extended period of time before being released from hospital.
Moscow has rejected British accusations of involvement in the Skripal poisoning, which sparked a diplomatic crisis that saw Russia and the West expelling dozens of diplomats in tit-for-tat moves.