Pakistan, sentences, Indian, spy, Kulbushan, Yadav, to, death
by News Desk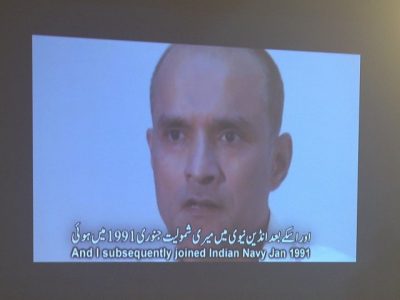 Pakistan on Monday sentenced Indian spy Kalbushan Yadav to death.
Pakistan on Monday sentenced Indian spy Kalbushan Yadav to death.
"Indian RAW Agent / Naval officer 41558Z Commander Kulbushan Sudhir Jadhav alias Hussein Mubarak Patel was arrested on March 3, 2016 through a Counter Intelligence Operation from Mashkel, Balochistan, for his involvement in espionage and sabotage activities against Pakistan," Inter-Services Public Relations (ISPR) said in a statement.
"The spy has been tried through Field General Court Martial (FGCM) under Pakistan Army Act (PAA) and awarded death sentence. Today COAS, Gen Qamar Javed Bajwa has confirmed his death sentence awarded by FGCM.
RAW agent Commander Kulbushan Sudhir Jadhav was tried by FGCM under section 59 of Pakistan Army Act (PAA) 1952 and Section 3 of official Secret Act of 1923. FGCM found Kulbushan Sudhir Yadhav guilty of all the charges. He confessed before a Magistrate and the Court that he was tasked by RAW to plan, coordinate and organize espionage / sabotage activities aiming to destabilize and wage war against Pakistan by impeding the efforts of Law Enforcement Agencies for restoring peace in Balochistan and Karachi.
The accused was provided with defending officer as per legal provisions.
Yadav, a serving Indian Navy officer, was arrested from Balochistan in March last year. He later confessed that he was working for the Indian Research and Analysis Wing (RAW) to create instability in Pakistan, particularly in Balochistan and Karachi.
Detained Indian spy confesses to RAW's involvement in Balochistan
Pakistan believes that India is using covert means to foment violence in the country with an aim to undermine the multibillion dollar 'one belt, one road' initiative of China. The recent surge in terrorist attacks in the country has once again brought the India intelligence agencies' role in backing the terrorism in Pakistan to the spotlight.
Security officials claim that RAW was using certain militant outfits operating out of Afghanistan to carryout terrorist attacks in the country. The current Indian National Security Adviser Ajit Doval is considered to be the architect of this policy called 'offensive defensive' that advocates a policy of supporting proxies to create trouble inside Pakistan.