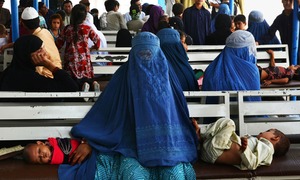 The process for voluntary repatriation of Afghan refugees from Khyber Pakhtunkhwa resumed on Monday, Radio Pakistan reported.
The process had been temporarily suspended in November last year due to the onset of the winter season.
A repatriation centre had been established in Chamkani near Peshawar to register and facilitate refugees who desire to return to Afghanistan, the state-run broadcaster said.
So far, 16,000 Afghan refugees have been registered at the centre. They are expected to be repatriated to Afghanistan by the end of next month.
Refugees from the Hazara region are also being facilitated at the same centre.
A United Nations High Commission for Refugees (UNHCR) representative in Haripur said that $200 are also being provided to each returning Afghan refugee, besides food and other basic items.
Last month, the federal cabinet, presided over by Prime Minister Nawaz Sharif, had approved a new policy for the repatriation of Afghan refugees and also barred entry into the country for those refugees who do not have valid visas.
The policy calls for strict implementation of Pakistan's immigration laws along the Pakistan-Afghanistan border and ensuring that those without visas are not allowed entry into the country.
The policy also permits an extension in the stay of registered refugees in the country till December 31, 2017.
Millions of Afghan refugees have been living in Pakistan for decades, having fleed over the border after the Soviet invasion of 1979.
Some 4.2 million Afghan refugees have returned to Afghanistan voluntarily under the UNHCR-funded Voluntary Repatriation programme since 2002.