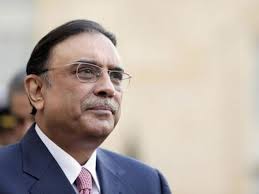 By Our Correspondent
KARACHI: 
Three close aides of PPP Co-chairperson Asif Ali Zardari have gone missing from different parts of the country over the past week, sending the party in panic mode and triggering fears Zardari may be the actual target.
Ghulam Qadir Marri, Ashfaque Leghari and Nawaz Leghari have been whisked away mysteriously. "Marri, a landlord from Tando Allahyar, went missing on Friday when he was travelling from Sehwan to Hyderabad. His guard and diver have also been missing. We have found his vehicle abandoned near Jamshoro Power House," DIG Hyderabad Khadim Hussain Rind told The Express Tribune.
It is yet not clear if it was a kidnapping case or 'someone' had picked him up.  "Marri is a trusted lieutenant of Zardari and it appears more people will be arrested in the coming days," a police officer familiar with the development said while requesting anonymity.
Zardari urges Baloch youth to give up violence
Earlier, Ashfaq Leghari, former chief of the Sindh Peoples Students Federal (SPSF), went missing last week near Gadap Town in Karachi. Police are still clueless about his whereabouts.
Nawaz Leghari, another friend of Zardari, who was also a member of chief minister Syed Qaim Ali Shah's cabinet as a special assistant in 2012, was picked up by men in civvies from Islamabad on April 5.
"Some unidentified persons who introduced themselves as government employees visited his residence and asked the security guard about him," Remzan Leghari, Nawaz's cousin said.
"The security guard informed them that Nawaz was sleeping, but these people insisted that they wanted to verify the identity papers of his entire family and wanted to meet him. Later they took him away in a SUV," he said. The family has lodged an FIR at Lohi Bher police station, Islamabad, but all in vain.
Sources said the PPP leadership has once again contacted the federal government which expressed ignorance of the arrests and promised to look into the matter.
However, police and PPP sources said these men have been picked by federal investigation agencies. Moula Bux Chandio, a senior PPP leader from Sindh, said all this had happened on the instigation of Interior Minister Chaudhry Nisar Ali Khan.
PPP will once again rule Pakistan, says Asif Zardari upon return
"No one but the interior minister is behind it," he said, adding that the PML-N government was victimising its opponents. "The state machinery is being used against our leaders and workers, but we will not give in to any pressure," he said.
Some senior PPP leaders believe Zardari is the actual target and these people have been picked up following the release of Dr Asim Hussain who spent around 19 months in confinement. "Zardari Sahib has also realised this and the party has asked him to be careful," said a senior PPP leader.
While the PPP leadership has not publicly reacted to the arrests, Zardari's elder daughter Bakhtawar raked up the issue on micro-blogging site Twitter.
"Nawaz Sharif, the terrorists walk free, but professors, farmers and 70s year cancer patients like Ghulam Qadir Marri are picked up," she wrote. In another tweet, she said, "Our National Action Plan! Pick up doctors, pick up politicians and leave the murders and terrorists."