39th meeting of interior standing committee held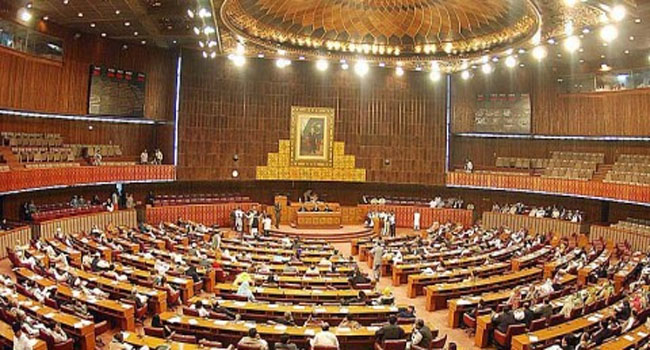 By Our special correspondent
Islamabad, The 39thmeeting of the Standing Committee on Interior was held today under theChairmanship of Rana Shamim Ahmed Khan, MNA. The meeting started with the recitation from the Holy Quran. The Committee offered Fateh on the death of General (Retd.) Khalid Shamim Wyne, Ex Chairman Joint Chief of Staff Committee, in a road accident. The Committee welcomed Shaikh Salahuddin MNA, the new member of the Committee.Then, the Committee decided to proceed with the agenda. The Committee unanimously confirmed the minutes of its previous meeting held on 24-10-2017. The concerned department informed the Committee that the recommendations, made in its previous meeting held on 24-10-2017, were implemented.
The Committee examined "The National Database and Registration Authority (Amendment) Bill, 2017" Section 10 (Moved by Ms. Suriya Asghar, MNA) and decided that the Bill may be deferred till its next meeting for further discussion.
The Committee examined "The Minimum Wages (Amendment) Bill, 2017" (Moved by Dr. Fouzia Hameed, MNA) and decided that the Bill may be recommended for submission to the Assembly for passing the Bill.
The Committee directed the Director General, NADRA to conduct an inquiry regarding the complaint against the Director NADRA Multan. The Committee also directed to submit the Departmental inquiry report alongwith the report of the Deputy Commissioner Multan regarding the Director NADRA Multan.
The Committee took serious notice of closed NADRA office at Uch Sharif and directed that the concerned Operational Head of NADRA HQ alongwith NADRA divisional and District heads visit the NADRA office Uch Sharif and make the office operational within the time limit prescribed by the Committee.
The Committee constituted a Sub-Committee under rule 224 of the Rules of Procedure and Conduct of Business in the National Assembly, 2007 under the Convenership of Nawab Muhammad Yousuf Talpur, MNA with the Terms of References "To visit the jails of the Province of Sindh and to observe the condition and treatment of prisoners in context of recently escaped prisoners."
Hon. Members/MNAs/Mover Syed Iftikhar-ul-Hassan, Makhdoomzada Basit Bokhari, Mian Shahid Hussain Khan Bhatti, Makhdoom Syed Ali Hassan Gillani, Nawab Muhammad Yousuf Talpur, Mr. Khial Zaman Orakzai, Kanwar Naveed Jameel, Shaikh Salahuddin, Mr. Sher Akbar Khan, Ms. Suriya Asghar, Ms. Fouzia Hameed, Ms. Romina Khursheed Alam and Malik Abdul Gaffer Dogar attended the meeting besides the senior officers from the Ministry of Interior, NACTA, Ministry of Law and Justice, NADRA, Passport Office with their staff.