Over the past decade, the Supreme Court (SC) of Pakistan as well as the others courts of the country have chosen Friday to issue several landmark judgements.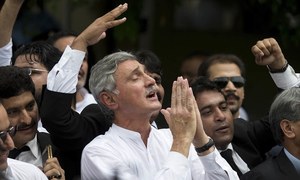 As the nation waits for the Islamabad accountability court to deliver its verdict in the [Avenfield corruption reference][8] after Friday prayers today, Dawn.com lists seven major decisions from the last 10 years which were issued on the day before the weekend.
July 20, 2007
A 13-member bench of SC judges unanimously overturns former president Pervez Musharraf's decision to suspend the then chief justice Iftikhar Mohammad Chaudhry.
July 31, 2009
The SC declares Musharraf's decision to impose an emergency on November 3, 2007 as well as his Provisional Constitutional Order illegal and unconstitutiona
July 28, 2017
A five-member bench of the apex court disqualifies Nawaz Sharif, the then prime minister, from holding public office in its landmark decision on the Panama Papers case. The verdict brings the PML-N supremo's third term in power to an unceremonious end
December 8, 2017
A Lahore High Court verdict halting the construction of the Orange Line Metro Train is set aside by a SC benc and the Punjab government is allowed to go ahead with the project subject to certain conditions to ensure the preservation of heritage sites in the area.
December 15, 2017
A three-member bench comprising SC judges rejects the National Accountability Bureau's appeal to reopen the Rs1.2 billion Hudaibya Paper Mills reference. The reference would have further complicated the Sharif family's legal troubles following Panama Papers verdict.
December 15, 2017
The Supreme Court hands down its much-awaited judgement in the Imran Khan, Jahangir Tareen disqualification case, rejecting Hanif Abbasi's petition for Khan's disqualification but disqualifying Jahangir Tareen for being "dishonest".
April 13, 2018
In a historic verdict, the Supreme Court rules that disqualification handed down under Article 62 (1)(f) of the Constitution is for life. The decision stated that the disqualification of any member of parliament or a public servant under Article 62 (1)(f), which sets the precondition for a member of parliament to be "sadiq and ameen" (honest and righteous), will be "permanent". Such a person cannot contest elections or become a member of parliament.