Pakistan Tehreek-i-Insaf's parliamentary committee on Monday officially named party chairman Imran Khan as their parliamentary leader and nominee for the next prime minister of Pakistan, DawnNewsTVreported.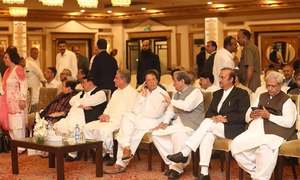 "The nomination of Imran Khan will be mere formality," senior party leader Dr Arif Alvi said before the meeting took place. "All 120 parliamentary committee members are in consensus over this."
"The final decision on cabinet members will be taken by Imran Khan himself," he added.
When the caucus began, Qureshi presented a resolution in favour of Khan's nomination to become the party's parliamentary leader. The resolution was accepted unanimously.
Once Khan's nomination for the PM's role was official, all the parliamentary committee members congratulated the party chief.
According to sources, Alvi is a leading candidate to become the next speaker of the National Assembly. However, vice chairman Shah Mahmood Qureshi is also being considered for the role.
Meanwhile, sources told DawnNewsTV that Imran Ismail will be the party's candidate to become Governor Sindh.
The meeting of PTI's parliamentary committee is taking place at a hotel in Islamabad today. The PTI chief left his Banigala residence for the first time since his party's victory in last week's general election.
Despite Khan's explicit instructions and refusal to travel with an extended protocol, a number of cars and heavy security tagged along with him.
"Imran Khan has always been against security protocols and VIP culture," Khan's spokesperson Naeemul Haq said."But it's the government that gave him the PM's protocol. We had asked for just four vehicles."