ISLAMABAD ;The Election Commission of Pakistan (ECP) will tomorrow filed a petition in the Supreme Court against the decisions of Lahore High Court (LHC) regarding annulment of nomination papers and delimitation of constituencies.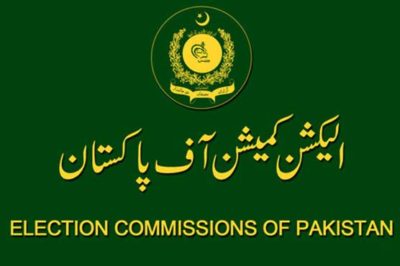 Sources said that the ECP has prepared a petition which will be filed in the apex court's Lahore Registry today (Sunday) and the ECP's lawyers will also be appear in the Lahore Registry.
The Chief Election Commissioner (CEC) also gave approval of filing petitions in Balochistan and Lahore High Courts against the LHC verdict.
The petition prepared by the ECP stated that there is ambiguity in LHC's verdict on nomination papers for upcoming general election 2018.
The petition stated that the LHC ordered the Commission to prepare new nomination papers but kept the Clauses of the Election Act 2018 intact.
The ECP accepts this right of the parliament that it has power to amend the nomination papers and that is why the ECP is moving to the court to seek clarity, it added.
On the other hand, the petition stated that the delimitations of Quetta declared void by the Balochistan High Court (BHC) could result in delaying general elections, so the decision should be declared null and void.
Earlier, the ECP had decided to approach Supreme Court (SC) for guidance over Lahore High Court (LHC) decision to annul the nomination papers prepared by the parliament.
Talking to media, ECP Additional Secretary Akhtar Nazir made it clear that the general elections will be held on 25th July.
He, however, said that the returning officers have been asked not to receive nomination papers on 3rd and 4th June, adding that the future directions regarding receipt of nomination papers will be issued to the returning officers keeping in view the order of the apex court.
Meanwhile, former speaker of National Assembly Ayaz Sadiq has also announced to move SC against the verdict, saying that the amendments were carried out with the consent of all the parties. ECP making new forms can delay the elections, he added.
Sadiq further demanded to not change the date of the general polls.
Previously, the LHC judge Justice Ayesha A Malik pronounced the reserved verdict on the constitutional petition filed by law expert Saad Rasool on the behalf of Dunya News anchor Habib Akram, challenging the Section 60, 110 and 137 of the Election Act 2018.
The judge while declaring null and void the nomination papers prepared by the parliament had ordered the ECP to prepare new nomination papers.
Afterwards, ECP had summoned an emergency meeting to make changes in the Form-A and Form-B in the backdrop of LHC's judgment whereas it had also barred Returning Officers (ROs) from issuing nomination papers.