Chief Justice of Pakistan Justice Saqib Nisar on Friday heard case related to the condition of the government hospitals in Balochistan.
During the hearing of the case, Chief Secretary of the province,  Aurangzeb Haq informed the two-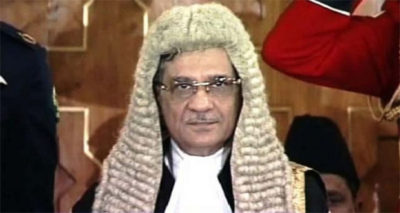 member bench that they are working on improvement of the health sector, explaining that the government has released Rs1 billion.
CJP reprimand the protesting young doctors of the province, advising them to first come to their workplace, do their job and then make demands.
"The young doctors indulge in politics. They don't work, don't serve," remarked CJP
Justice Ijazul Ahsan remarked that it is only in Pakistan that doctors go on strikes and stop their work.
President of Young Doctors Association Dr Yasir Khosti said their issues have not been resolved. He informed the bench that Rs24,000 is paid to them as a monthly stipend while in the other provinces the amount is Rs60,000.
At this, Chief Justice Nisar observed that the stipend reflects the condition of the province.
The chief secretary added that the stipend is being increased by Rs4,000.
Earlier, Chief Justice of Pakistan  said he took suo motu notice of Hazara killings in Quetta as it is like "ethnic cleansing".
According to the details, a two-member bench headed by CJP, Justice Nisar and  comprising of Justice Ijazul Hasan said during a hearing of the suo motu notice at Supreme Court's Quetta Registry that "We do not have words to condemn the incidents of Hazara killings."
Apprising the court, the counsel of the Hazara community, Advocate Iftikhar Ali, said, "We are facing a personal and financial loss."
"Members of the Hazara community are not given admission in universities and the business." the counsel added.
Advocate Iftikhar Ali further said, "Some members of the community were forced to migrate to Australia."
On the occasion, the CJP asked IG Quetta and agencies to submit the measures that can be taken to protect the Hazara community.
Justice Nisar then remarked that a committee has been formed to look into the matter.
Advocate Iftikhar Ali further told the court, "Hazaras are being killed for the last 20 years."
Responding to the comment, the chief justice asked the Quetta IG if a report has been prepared on the targeted killings.
The Quetta IG then presented a report on targeted killings in the court.