The Election Commission of Pakistan (ECP) on Thursday dropped the charges against Imran Khan, Maulana Fazlur Rehman, Sardar Ayaz Sadiq and Pervez Khattak for using indecent language during their election campaigns.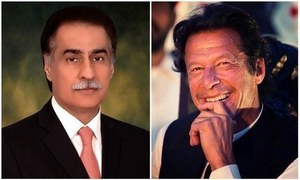 A four-member ECP bench headed by the chief election commissioner announced its reserved verdicts in the cases, warning the politicians not to use foul language in the future.
Earlier today, former National Assembly speaker Sadiq and former Khyber Pakhtunkhwa chief minister Khattak had tendered their separate apologies to the ECP for using indecent language while campaigning. Chief of his own faction of the Jamiat Ulema-i-Islam, Fazl had already submitted an apology.
The commission had issued notices to Sadq, Fazl and Khattak last month, deploring the "abusive, insolent and derogatory" language used against other leaders that had been aired and published by the electronic and print media, besides doing rounds on social media.
Pointing out that this was a clear violation of the code of conduct issued by it, the ECP had asked the three political leaders to desist from using such language and summoned them to appear before it in person or through their counsel.
Lawyer Kamran Murtaza, who was representing Sadiq, submitted an apology on behalf of the ex-NA speaker.
Before the bench reserved its verdict on the matter, a clip was also played of the PML-N leader allegedly using derogatory language against political opponents.
Meanwhile, Khattak appeared before the ECP himself to face the charges. A video clip showing Khattak apologising over his remarks was also played as the verdict was reserved.
Pakistan Tehreek-i-Insaf (PTI) chairman Imran Khan, who was served a notice after he termed those going to welcome deposed prime minister Nawaz Sharif on his arrival from London "donkeys", had submitted an apology last month.
Khan's counsel Babar Awan had then argued before the commission that donkey was a "common word that was used by teachers for their students".
'Did not deliberately show ballot'
Awan today submitted a written statement on behalf of Khan in a case pertaining to the violation of secrecy of ballot, claiming that the prime minister-in-waiting had not deliberately shown his vote while casting the ballot in the July 25 general elections
Khan, accompanied by friends and supporters, had openly cast his vote in the NA-53 constituency where he was contesting election against former prime minister Shahid Khaqan Abbasi of PML-N and PPP's Syed Sibtul Haider.
Instead of going behind the voting screen to cast his vote in private, the PTI chief preferred to publicly stamp the ballot paper placing it on the table of the election officer, with TV cameras filming him. Surprisingly, the presiding officer and other polling staff did not object to the violation.
Awan argued in the statement that Khan's prior permission was not sought before filming him cast his vote. He claimed that the secrecy screen behind which a voter is supposed to stamp the ballot had fallen due to the room being crowded.
After initially reserving its verdict, the ECP bench rejected the written statement submitted by Awan as it did not have Khan's signature on it.
The commission directed the counsel to submit the response signed by the PTI chief. The hearing of the case was adjourned until Friday (tomorrow).
Under Section 185 (a) of the Elections Act 2017, an election official or a candidate, election agent or polling agent, a voter at a polling station or any person present during vote counting is guilty of an offence punishable with imprisonment for a term which may extend to six months, or with fine which may extend to Rs1,000 or with both, if he/she fails to maintain secrecy of voting or aids in violating secrecy of voting.