The Election Commission of Pakistan (ECP) has declared 20,789 polling stations for the July 25 general elections as sensitive, DawnNewsTV reported.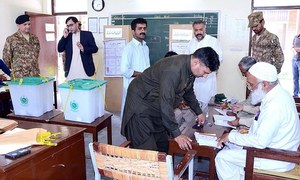 According to data released by the ECP, a total of 85,307 polling stations have been set up for this month's countrywide polls, of which 20,789 are sensitive. With 7,386 sensitive stations, Khyber Pakhtunkhwa has the lead on all four provinces, followed by Sindh (5,776), Punjab (5,686) and Balochistan (1,768).
Out of the 360 polling stations in the federal capital, 173 have also been declared as sensitive, per the ECP-provided data.
As expected, however, Punjab (47,813) has the highest number of polling stations of all the provinces. Sindh is a distant second with 17,747, while KP and Balochistan have 12,634 and 4,420 polling stations, respectively.
While the list of sensitive polling stations and booths has been released, the electoral watchdog has not yet been able to finalise its report on most sensitive polling stations and booths.