Inadequate security at Sehwan shrine irks CM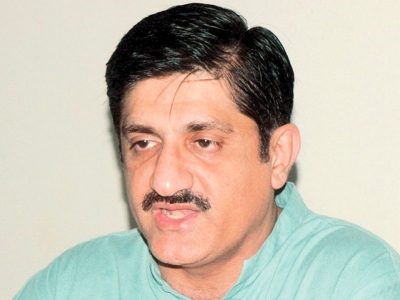 HYDERABAD: 
A month after the suicide blast at Hazrat Lal Shahbaz Qalandar's shrine in Sehwan that claimed 90 lives, security arrangements remain unabashedly lax. The acknowledgement of this lapse has come from Chief Minister Murad Ali Shah, who paid a surprise visit to the shrine in the wee hours of Sunday.
"The CM expressed strong dismay over the poor security system and directed the police officials to [strengthen it]. Otherwise they would face a strong [disciplinary] action," read an official hand-out.
At the time of the blast last month, only two policemen were deployed at the shrine, the police and Auqaf department sources had informed The Express Tribune. The suspected suicide bomber was reportedly spotted by a staff member of the Auqaf department but the security lapse prevented a swift response.
Shah also expressed annoyance at the officials of Auqaf and works and services departments over the slow pace of restorative work at the shrine, which was partly damaged by the explosion.
Power plant
The CM accused the Water and Power Development Authority, National Electric Power Regulatory Authority and Hyderabad Electric Supply Company of creating hindrances against the Sindh Nooriabad Power Company's power generation project.
"This project would have been completed two years ago if obstacles were not put in its way," he said while speaking at the project site in Nooriabad, Jamshoro, on Sunday.
He boasted that this 100-megawatt gas-powered project is a distinctive venture in the energy sector under a public-private partnership initiative. The Sindh government owns 49% shares in the company against 51% held by the private partner.
"The unnecessary obstacles [placed] by the federal government's departments only harm the people of Sindh," the CM asserted.
The company's director, Khursheed Jamali, said that 98% of the work on the project, being completed at a cost of Rs13 billion, is finished. He expressed hope that the plant will start supplying 100MW of electricity to K-Electric after a month.
The Sindh Transmission and Dispatch Company has laid a 95-kilometre-long transmission line from Nooriabad to Karachi at a cost of Rs2 billion, he added. The company will sell power to K-Electric at the rate of Rs15.50 per unit. Work on the project began in August 2014, said Jamali.
Census
The chief minister reiterated his concerns about ensuring transparency in the house and population count. "The federal government should resolve the concerns of the people and satisfy all," he said. "If the [census's] results are announced without addressing these fears, the whole process will become controversial."
Commenting on the arrest of Muttahida Qaumi Movement (MQM)-Pakistan chief Farooq Sattar, Shah said he has advised MQM leaders to obtain protective bail in court cases against them. "I hope Farooq Sattar will soon try to get bail," he said.