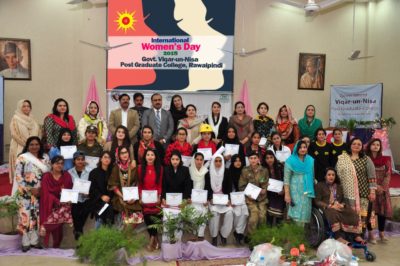 Rawalpindi (BY.ASGHAR ALI MUBARAK)The International women's day (IWD) celebrated on March 8th every year.It commemorates the movementfor the rights of women. Special tribute is paid to every woman who is struggling for her identity and existence in the societies.
The chief guest on the occasion was the Additional commissioner coordination Tariq Islam Marwat. Along with him other guests included Ms. QudsiaMehmood, Managing Director,Peace and Development Foundation, Ms. TayyabaAbbasi, Advocate Supreme court, Sidra Ishaq, Hostel Manager for Working Women (Women development department), QaiserMehmood,Regional coordinator, Punjab commission on the status of women,Ayesha Rehman, President DIYA foundation Ms. Sidra Iqbal, Manager, working women hostel, ShamsAbad.
Students shared their views about the importance of women's day through speeches, narration of poetry, and presented tableaus representing different roles of women in domestic and professional sphere.
A documentary was played regarding the achievements of Govt. Viqar-un-nisa Post Graduate College as a leading women college of Rawalpindi.
The chief guest, Mr. Tariq Marwat shared his views by appreciating the roles of women as a daughter, wife, sister, and mother. He stressed on the need to utilize education and excel in different professions for better representation of women. He also shared the contributions of Punjab Government for women empowerment.
Ms. QudsiaMehmood expressed her view about women harassment being experienced in different spheres of life. She urged on the need to be strong and clear headed about the status given to women in Islam. She shared valuable information about the law of harassment at workplace formulated by Punjab Government.
Ms.Sidra Ishaque and Ms. Sidra Iqbal discussed about the problem of working women living in hostels and the initiative taken by women development department to cater their problems.
Ms. TayyabaAbbasi shared very pertinent information about the legislation done for women's security by Punjab Govt. She shared the news that women protection act is going to be implemented soon.
Ms. TayyabaAbbasi shared her life story, full of inspiration as how she struggled against her disabilities and became president of DIYA foundation.
Professor,Shanazer expressed his views about the role of women in the field of literature and poetry. He narrated his poem "The voice of women" as atribute to women in the world.
Mr. QaiserMehmood expressed his gratitude to all the guests and students for organizing such a great event.
Principal, Prof. Dr.Saira Mufti also shared her views about the importance of celebrating International women's day. She stressed on the need to be strong, as women have multi-tasking capabilities to perform different roles at one time. The Principal along with the chief guest distributed certificates of appreciation among all the participants.