News Desk, February, 27, 2018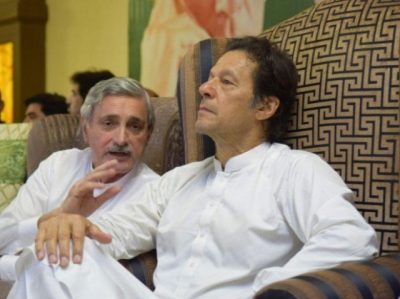 Islamabad: Khyber Pakhtunkhwa government has undertaken admirable measures to reform and mainstream religious seminaries. More than 2.5 million children are studying in Madarsas and it is the need of hour to give those children a proper place and position in the education system", said Chairman Pakistan Tehreek e Insaf in a meeting with Chief Minister Khyber Pakhtunkhwa Pervez Khattak today.
According to the details issued by party's Central Media Department CM Khyber Pakhtunkhwa Pervez Khattak called on Chairman Pakistan Tehreek e Insaf Imran Khan today here at Chairman's Secretariat Islamabad.
Chief Minister KP gave a detailed briefing to Chairman PTI on the measures taken by PTI-led Khyber Pakhtunkhwa government regarding mainstreaming of Madarsas in the province. Pervez Khattak apprised Chairman PTI about the funds being issued to Darul Uloom Haqania.
Speaking on the occasion Chairman PTI has stated that more than 2.5 million children are studying in Madarsas. He said that the funds and support will help the seminary students assimilate in our society, bring them in to the mainstream and keep them away from radicalization. Lashing out at ruling elite Chairman PTI stated that successive governments' succumbed policies have resulted in disintegration of our society that further led to marginalization of certain classes.
Lauding KP government he stated that progressive reforms are being implemented by Khyber Pakhtunkhwa government to better integrate seminary students in to the mainstream.
Chief Minister Khyber Pakhtunkhwa stated that KP government has provided comprehensive support to Jamia Haqqania for the development of infrastructure. He categorically mentioned that KP government doesn't intended to provide financial support to Daul Uloom Haqqania. Chief Minister KP stated that proposal to extend the program of the mainstreaming of the Madarsas is under consideration.
Chairman PTI Imran Khan has advised Chief Minister KP to exclusively facilitate seminaries affiliated with provincial government's program.