LAHORE;Former Prime Minister Nawaz Sharif's daughter Maryam Nawaz and Pakistan Tehreek-e-Insaf (PTI) leader Yasmin Rashid have on Wednesday appeared before returning officer for scrutiny of their nomination papers.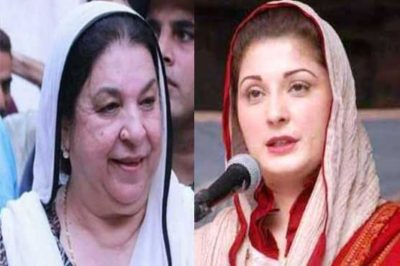 According to details, Maryam Nawaz visited the session court for her candidacy in NA-127 and PP-173 constituencies while she and PTI's Yasmin Rashid were also summoned for NA-125.
During the session, returning officer asked Maryam how she will overcome water and terrorism issues over which, she said that dams will be constructed to eliminate water crisis while her party has been taking steps to combat terrorism from past five years.
Scrutiny of Pakistan Muslim League-Nawaz (PML-N) leader Hamza Shahbaz's papers has also been completed whereas former Chief Minister of Punjab (CM) Shehbaz Sharif is yet to appear for the clearance.
Moreover, no one has raised objections over the nomination papers of Maryam Nawaz and Hamza Shahbaz so far.
It is to be mentioned here that candidates can withdraw their candidature by June 28 after which final list of candidates will be published on the same day. Election symbols will be allotted to the contesting candidates on 29th of this month.
Earlier, Election Commission of Pakistan (ECP) had stated that over 12000 nomination papers were filed by candidates with electoral body as deadline expired on Monday.
ECP had forwarded data of all candidates to departments concerned including Federal Board of Revenue (FBR), National Accountability Bureau (NAB) and SBP.
It is worth mentioning that general elections 2018 for Lower House of the Parliament and all provincial assemblies will be held on July 25.