Prime Minister (PM) Shahid Khaqan Abbasi on Tuesday has supported the suggestion of ex-PM Nawaz Sharif to form commission over his statement regarding Mumbai attacks.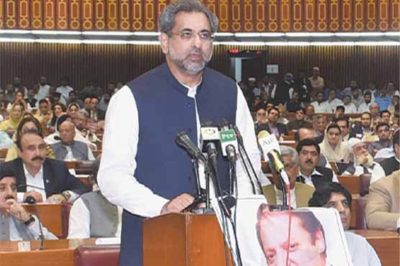 Addressing the participants in National Assembly (NA), Abbasi said that were trumpeted in a wrong way, adding that no one has right to give certificate of patriotism to anyone.
He said the former PM did not say that the militants were deliberately sent from Pakistan for Mumbai attacks. Should stop conspiracies over this issue, PM asserted.
He categorically stated that Pakistan has a consistent policy of not allowing use of its soil for attacks against any other country. This has been the policy in the past and remains so today, he continued.
Prime Minister said as the issue was being fanned for political objectives, he convened meeting of the National Security Committee to reaffirm the point of view of the Government.
He said the parliament, if so desires, can form a Truth and Reconciliation Commission to go deep into the issue.
Earlier, and said, "Indian media trumpeted the remarks of Sharif in the wrong way."
The premier reiterated that even today he considers the PML-N supreme leader as his Prime Minister. "The entire party stands with Nawaz Sharif," he affirmed.
"It is our policy that non-state elements will not be allowed to use the homeland against anyone. Pakistan has always ousted the non-state actors," asserted PM Abbasi.
The premier vowed that they will not leave the government even one minute before their term expires. He declared that civil-military relations are still the same as they were before the remarks of Nawaz Sharif.