Islamabad: The National Assembly on Tuesday unanimously passed a resolution strongly condemning the Israeli state terrorism against unarmed Palestinian protestors in Gaza.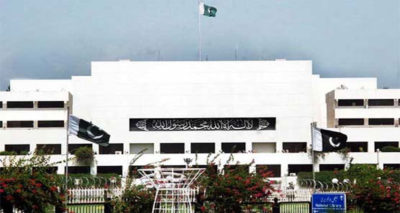 The resolution moved by Shireen Mazari of Pakistan Tehreek-e-Insaaf also denounced the US's decision to shift its embassy to Jerusalem occupied by Israel.  It termed the US's decision contrary to the UNSC resolutions.
The resolution demanded the UN Security Council and the International community to take action against the massacre of Palestinian people by the occupying Israeli forces.
Earlier, Israeli forces martyred at least 55 Palestinians, who were protesting against the opening of US embassy, along with the Gaza border, health officials said.
It was the highest Palestinian single-day death toll since a series of protests dubbed the "Great March of Return" began at the border with Israel on March 30 and since a 2014 Gaza war.
The health officials told  900 Palestinians were wounded, about 450 of them by live bullets.
Tens of thousands gathered at the frontier on Monday, some of them approaching Israel's border fence – a line Israeli leaders vowed Palestinians would not be allowed to breach.
Later in the day, Israeli leaders and a US delegation including Treasury Secretary Steven Mnuchin and President Donald Trump's daughter and son-in-law, Ivanka Trump and Jared Kushner, were due to attend the opening of the embassy relocated from Tel Aviv to Jerusalem.
Prime Minister Benjamin Netanyahu, in lockstep with Trump over fulfilling a long-standing US promise to move the embassy to the holy city and over the president's withdrawal from the Iran nuclear deal last week, echoed the sentiment.
The 28 Palestinian dead on Monday included a 14-year-old boy, a medic and a man in a wheelchair who had been pictured on social media using a slingshot.