National Security Committee (NSC) presided over by Prime Minister (PM) Shahid Khaqan Abbasi on Monday has rejected the statement of Nawaz Sharif regarding Mumbai attack controversy.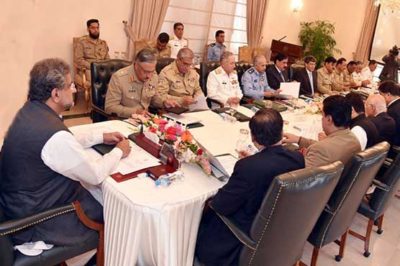 According to details, the participants termed the remarks as contrary to the facts and said that Indian government didn't present evidence for investigation.
They observed that it was very unfortunate that the opinion arising out of either misconceptions or grievances was being presented in disregard of concrete facts and realities.
The meeting was attended by Chairman Joint Chiefs of Staff Committee General Zubair Mahmood Hayat, Cheif of Army Staff General Qamar Bajwa, Air Chief Mujahid Anwar Khan, Naval Chief Admiral Zafar Mahmood Abbasi and others.
Earlier, Nawaz Sharif revealed in an interview that those who attacked hotel in Mumbai in 2008 hailed from Pakistan.He said: "Militant organisations are active. Call them non-state actors, should we allow them to cross the border and kill 150 people in Mumbai? Explain it to me. Why can't we complete the trial?" — a reference to the Mumbai attacks-related trials which have stalled in a Rawalpindi anti-terrorism court.The statement sparked condemnation on social media after which Pakistan Muslim League Nawaz's (PML-N) spokesperson stated that part of Nawaz Sharif's interview was 'grossly misinterpreted' by Indian media.The spokesperson further added that party and its Quaid need no certificate from anybody on their commitment and capacity to preserve, protect and promote Pakistan's national security.