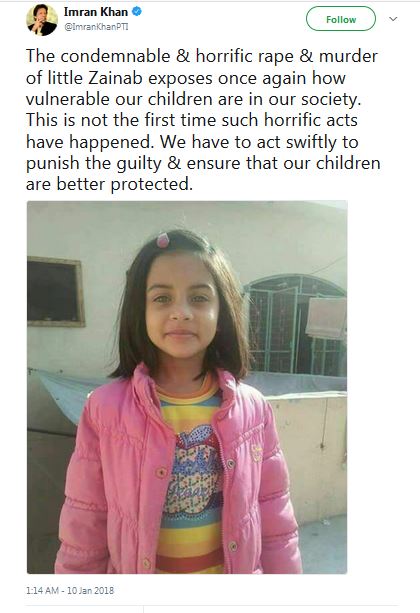 Islamabad (Asghar Ali Mubarak) The pakistan cricket community strongly condemned and expressed profound grief over the rape and subsequent brutal killing of an eight-year-old girl in Kasur.
Raising calls for justice for the deceased minor girl, identified as Zainab, Pakistan's former cricketer Waqar Younis tweeted saying "I want justice for Zainab & her family..No justice in giving mercy to merciless".
Former skipper Imran Khan says, "The condemnable & horrific rape & murder of little Zainab exposes once again how vulnerable our children are in our society".
The unfortunate incident relates to Zainab, who went to a tuition centre near her house in Road Kot area on Thursday when someone abducted her, at a time when her parents were returning home after performing Umrah.
The kidnapping panicked the family members of Zainab, who toiled hard for her recovery but to their dismay, police recovered the dead body of the girl which was found dumped near garbage pile near Shahbaz Road on Tuesday.
Scores of locals took to the streets early Wednesday as a protest against the brutal incident, engaging in skirmishes with law enforcers. At least two protesters lost their lives in clashes with police.