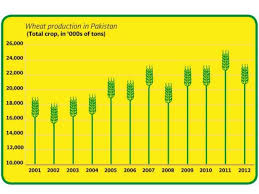 Lahore (PR) the 09th January, 2018(Asghar Ali Mubarak) 41st meeting of the Standing Committee on National Food Security and Research was held today at 11:00 a.m. in Pakistan Agricultural Storage & Supplies Corporation (PASSCO) Head Office, Lahore under the Chairmanship of Malik Shakir Bashir Awan, MNA.
The Committee was briefed about the step taken by the PASSCO and Department of Plant Protection (DPP) on implementation status of Committee recommendations during its previous meetings.
Managing Director (MD), PASSCO briefed the Committee about the Current PASSCO stock situation of wheat, Domestic Wheat releases and export prospects and steps being taken for procurement of wheat during 2018. He informed that annual requirement and liabilities of PASSCO with regards to availability of wheat stock ranges between 1.4 to 1.6 million metric tons. He added that Economic Coordination Committee (ECC) has allowed PASSCO to dispose of 500,000 M. Tons and also concurrently allowed export of 2.0 million M. Ton of Punjab and Sindh's surplus wheat. He said that the decision has seriously hampered / impeded local sale of PASSCO wheat and if the entire stock of 500,000 M. Ton is not lifted, PASSCO will be constrained to curtail its wheat procurement target for the year 2018. He further informed that to address complaints and to make the issue of bardana more transparent PASSCO plans to introduce electronic balloting system as a pilot project first, in relected zones which will then be replicated all over its designated procurement areas, if found beneficial and acceptable to the growers. Secretary Food Department, Punjab and Secretary Food Department, Sindh also shortly briefed the Committee regarding stock situation of wheat and steps being taken for procurement of wheat.
Chaudhary Nazeer Ahmad, Choudhary Iftikhar Nazir, Tahir Iqbal Ch., Sayed Essa Nori, Syed Iftikhar-ul-Hassan, Pir Muhammad Aslam Bodla, Ms. Shahnaz Saleem, Ms. Khalida Mansoor, Dr. Fouzia Hameed and Parveen Masood Bhatti MNAs attended the meeting. The meeting was also attended by senior officers of the Ministry of National Food Security & Research and PASSCO.
Wheat, Stock, ranges, between ,4. to 1.6 ,million, metric, tons, in, country, Standing ,Committee, of, Food, security, and, research