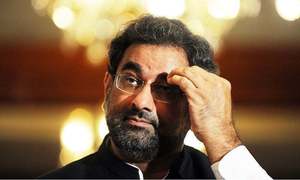 Prime Minister Shahid Khaqan Abbasi on Thursday disowned the statements made on the floor of the National Assembly by Nawaz Sharif's son-in-law retired Captain Muhammad Safdar, when he launched into a virulent tirade against Pakistan's persecuted Ahmadi community.
"Neither I nor Mian sahb or the party is responsible for his views", Abbasi said while talking toDawnNews, adding that "He [Safdar] should not have said what he said. No one in the party would agree with him."
"Being a parliamentary leader I will take up this issue with him," he maintained.
Abbasi, however, rejected the notion that Capt Safdar's remarks fell into the category of hate speech. "What he [Safdar] said was apparently in the flow of emotions."
"We should stay away from such statements which create unrest in the society," said Abbasi, while agreeing that being a son-in-law of Nawaz Sharif he should have behaved more responsibly.
'People rejected Sharif's ouster by SC'
The prime minister also said that people of Pakistan have rejected the way in which former premier Nawaz Sharif was ousted by Supreme Court.
Abbasi said that "democracy would flourish but it takes time". He, however, avoided agreeing that Sharif's ouster was a danger to democracy.
"Let history decide on the decision of the ouster of Sharif," he said.
Abbasi said he was carrying forward the policy of the PML-N, in accordance with the mandate given to him.