RAWALPINDI: More than a hundred local leaders and workers of PML-N have been arrested for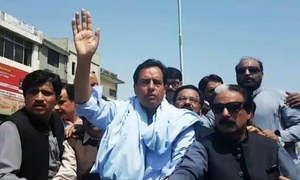 flouting the ban on congregations and rallying and obstructing a National Accountability Bureau's (NAB) official from arresting retired Captain Mohammed Safdar.
The son-in-law of former prime minister Nawaz Sharif was sentenced to one-year imprisonment in the Avenfield reference.
The workers and local leaders, who were booked in three separate cases, had been nominated in the complaint filed by NAB.
Police are still raiding different places in the city to make more arrests, said a spokesperson of the Rawalpindi police on Wednesday.
Abbas Ahsan, the city police officer (CPO), said they would arrest the nominated persons and present them before the court. "We have been doing our duty with utter professionalism," he added.
On Wednesday, a civil judge sent 37 PML-N workers, who have been arrested since Sunday, to Adiala jail.
On the other hand, eight PML-N local leaders including Senator Chaudhry Tanveer, Danyial Chauydhry, Malik Shakil Awan former MNA Malik Ibrar, Raja Hanif, Rahat Qudoosi, Maqbool Ahmed and Raja Mushtaq were granted bail before arrest until July 18.
The police said the PML-N workers had taken out protest rallies in violation of section 144 and their participants had obstructed the arrest of Mohammad Safdar. The CPO said that police crackdown would continue until the arrest of all violators of the section.
The CPO said nobody is above the law and police would deal strictly with the persons creating law and order situation.
"We will not be lenient to anybody and ensure the implementation of the code of conduct," he said.
The police said it will ensure implementation of standard operating procedure SOPs for security of political gatherings, notified by home department. "Whosoever tired to create law and order situation, he would be treated according to the law," the CPO said.