The Pakistan Tehreek-i-Insaf (PTI) on Friday announced Asad Qaiser's name as the party's nominee for the post of the National Assembly speaker.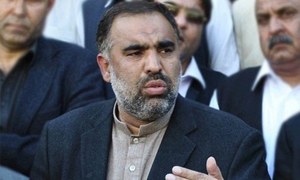 Chaudhry Muhammad Sarwar's name was also announced as the party's nominee for Punjab governor.
Qaiser formerly held the post of the speaker of Khyber Pakhtunkhwa Assembly while Sarwar has previously served as the Punjab governor as well.
The announcement was made by PTI Vice President Shah Mahmood Qureshi in a press conference.
Qureshi further announced that on the night of August 13, after the assembly takes oath, Imran Khan will chair a meeting of all the PTI and coalition party MNAs to discuss their combined future strategy.
PTI has also nominated party representatives that will keep tabs on and coordinate with MNAs from regions designated to them.
"Pervez Khattak will look after the KP and Fata region, Arif Alvi will take care of Sindh. Shafqat Mehmood will coordinate with MNAs from central Punjab, Chaudhry Mumhamm Sarwar will coordinate with members from west Punjab while Amir Kiyani will coordinate with north Punjab and I will take care of the coordination with members from south Punjab," Qureshi announced during the press conference.