Pakistan Tehreek-i-Insaf (PTI) leader Asad Umar suffered a back injury after falling off a horse in Islamabad on Sunday, DawnNewsTV reported.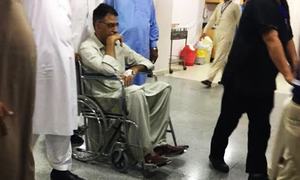 The incident took place in the suburbs of Islamabad in the Badana area during a reception which was held to celebrate the party's win in the elections, party sources said.
In line with local traditions, Umar was to sit on a horse. However, while he was trying to mount the horse, his foot slipped in the stirrup and he lost his balance and fell, hurting his back, the sources told DawnNewsTV.
He was immediately taken to a nearby hospital, where doctors conducted a thorough medical examination. The PTI leader already suffers back problems.
Umar, in a tweet on Monday, thanked all those who had enquired about his health or prayed for him. He added that he had only suffered a minor injury.