Former interior minister and PPP stalwart Rehman Malik has termed the 2008 Mumbai attacks 'RAW's sting operation'.Addressing a news conference, Malik maintained that the sole surviving gunman from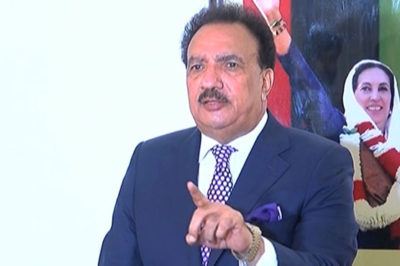 attacks, Mohammad Ajmal Amir Kasab, was India's own man due to which access to him was denied.
We asked India to provide evidence to us and said that we will initiate proceedings, he added."I formed a JIT over the attacks and sent questions to India but no response came. The syndicate of David Headley, a key plotter of the attacks, was prepared by the India's intelligence agency," he asserted.Malik while referring to said that, "A non-state actor is one which does not possess the support of government. India commits terrorism in Pakistan while sending state actors."I regret the statement of Nawaz Sharif. The apology he has to tender after three months should be submitted today. For the first time, he has given any statement against Jadhav. Nawaz Sharif should apologize before the court," said Rehman Malik.Former Prime Minister Nawaz Sharif had on Saturday revealed in an interview that those who attacked hotel in Mumbai in 2008 hailed from Pakistan.Speaking to Dawn newspaper, Nawaz Sharif asked if we should allow non-state actors "to cross the border and kill 150 people in Mumbai".He said: "Militant organisations are active. Call them non-state actors, should we allow them to cross the border and kill 150 people in Mumbai? Explain it to me. Why can't we complete the trial?" — a reference to the Mumbai attacks-related trials which have stalled in a Rawalpindi anti-terrorism courtMeanwhile, the interview has stirred a storm as Indian media has turned his statement into a charge sheet against Pakistan for being involved in the Mumbai attacks.On the other hand, a German journalist, Elys Davidson in his book last year revealed that the Mumbai attack was masterminded by Israel and America and the facts were distorted by the Indian government.According to the book, many witnesses saw Ajmal Kasaab and others gathering in Nariman House two days before the incident, but the Indian investigative agencies never included their statements in the investigation report.