LAHORE;A six-member caretaker cabinet of Punjab on Monday has taken oath at Governor House.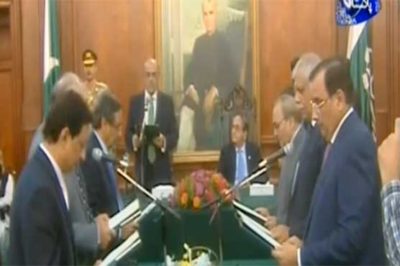 According to details, Punjab Governor Rafiq Rajwana administered the oath to the new caretaker cabinet while interim CM Hasan Askari and others were also present on the occasion.
It is to be mentioned here that Waqas Riaz, Z.M Rizvi, Anjum Nisar, Jawad Sajjid, former IG Shokat Javed and Former Chairman Wapda Zafar Mehmood are included in the caretaker setup.