KPK youngstars will get a new state of the art cricket academy, MoU signed between PCB and KPK SPORTS BOARD
Lahore (Asghar Ali Mubarak)December 29, 2017: A Memorandum of Understanding (MoU) was signed today at Gaddafi Stadium, Lahore between the Pakistan Cricket Board (PCB) and Khyber Pakhtunkhwa (KPK) Sports Board through Directorate General of Sports.
At this auspicious occasion, Mr. Subhan Ahmad, COO PCB, Mr. Junaid Khan, Director General Sports, Mr. Mudassar Nazar, Director Academies, PCB, Mr. Haroon Rashid, Director Cricket Operations, Mr. Niamat Ullah, AD Sports KPK, and Mr. Munir Abbas, AD (DG) Sports KPK were present.
Chairman PCB Najam Sethi had earlier obtained approval of the PCB BoG for this project for the uplift of the game.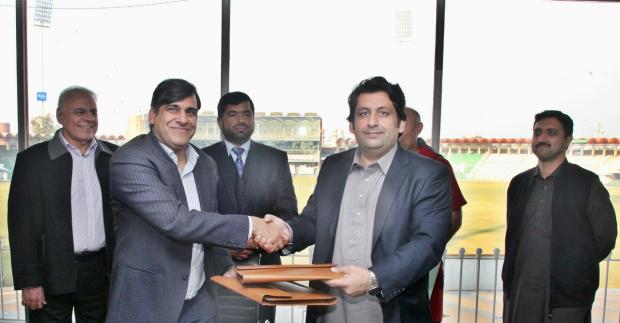 As per the MoU, the KPK government will construct a Cricket Academy in order to provide young cricketers a state of the art facility for the purposes of honing their cricketing skills and talent.
In return, the PCB will appoint coaches, trainers and physiotherapists in the academy. PCB will also carry out talent identification, and development activities.