PCB Board of Governors meets in Karachi
Karachi: (Web Desk) The 48th meeting of the PCB Board of Governors (BoG) took place at a local hotel in Karachi today to discuss various methods pertaining to Domestic, International and Women's cricket.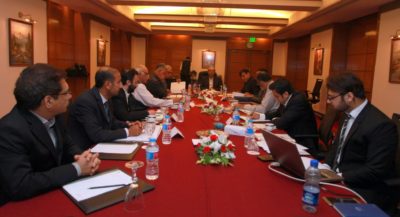 The meeting was chaired by Chairman PCB Mr. Najam Sethi.
The BoG appreciated and congratulated the PCB for the outstanding success of the HBL Pakistan Super League (PSL) 2018 that concluded with a historic final at Karachi's National Stadium on Sunday.
The BoG acknowledged the tireless efforts of the Chairman and PCB team that delivered a hugely successful third edition of the league with an unprecedented three matches being staged in the country following the league stage in Dubai and Sharjah.
The BoG members unanimously backed the PCB in the efforts of building the PSL brand that has now become a leading Pakistani brand acknowledged around the world.
The BoG also backed PCB's plans of developing an infrastructure for PSL and international matches around the country in the years ahead.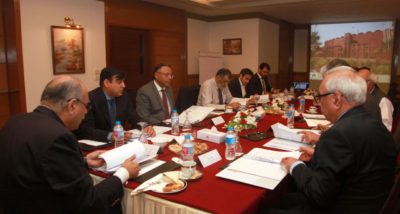 Stadiums would be upgraded and brought to international standards for the upcoming editions of the PSL as well as international tours by teams from around the world.
The BoG was also briefed about the plans and preparations for the three match T20I series against the West Indies that will be staged at the National Stadium in Karachi next week.
The Chairman also briefed the BoG about cricket development at the Domestic level, it was decided by the members that the National A Team should be revived and team's home and away tours should be arranged with teams from around the world in the coming months.
The BoG was also briefed about PCB plans of further improving Domestic cricket.
The PCB has requested the Departments to play an active role in improving and capacity building of Regions across the country and elaborate plans would be soon shared with them.
Women's Cricket team performance in Sri Lanka was also appreciated by the BoG following their success in the ODI series there.
The Chairman apprised the BoG of the plan of setting-up five Women's Cricket Academies around the country, details of the venues and development plan for these academies would be announced soon.
The following BoG members were present at the meeting:
-Mr. Najam Aziz Sethi, Chairman PCB.
-Mr. Murad Ismail, Member BoG.
-Mr. Shahrez Abdullah Khan, Member BoG.
-Mr. Mansoor Masood Khan, Member BoG.
-Dr. Najeeb Samie, Member BoG.
-Mr. Arif Ijaz, Member BoG.
-Mr. Syed Abu Ahmed Akif, Ex-Officio Member (Secretary Ministry of IPC)
-Mr. Subhan Ahmed, COO PCB
-Mr. Badar M Khan, CFO PCB
-Mr. Amjad Hussain, Director Media and Co-ordination PCB
-Mr. Salman Naseer, Secretary to the Board.