A delegation of All Pakistan Textile Mills Association (APTMA) had a meeting with Dr. Miftah Ismail, Adviser to Prime Minister on Finance
Islamabad: (Asghar Ali Mubarak) The delegation discussed with the Adviser matters pertaining to Tax refunds (Sales Tax , DLTL) as well as smooth supply of gas to textile units. The delegation requested expediting cases of refunds and stated that it was a major issue confronting the textile manufacturers.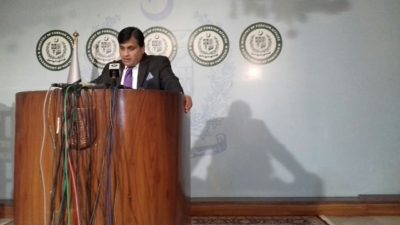 Adviser Miftah Ismail said that textile industry has a key contribution in country's industrial development and earning foreign exchange. He assured that requests by the APTMA regarding supply of gas and early tax refunds are under active consideration of the government and efforts are being made to resolve these issues.
The APTMA delegation also shared with the Adviser, their textile related proposals for the upcoming budget 2018-19.
Miftah Ismail reviews performance of National Savings
Islamabad: March 29, 2018
Adviser to Prime Minister on Finance, Dr. Miftah Ismail here on Thursday, chaired a meeting to review the performance of National Savings.
Director General, Mr. Zafar Masud briefed the meeting on achievements made by National Savings  especially in the field of  automation, customer facilitation, financial inclusion, product development, capacity building etc. Performance of different national savings schemes was discussed in detail in the context of the current interest rate regime.
The Adviser was also briefed on the four new schemes i.e. Shuhada Families Welfare Account, extension of Behbood Saving Certificates for disabled persons, Shariah Compliant Products and  Overseas Pakistanis Savings Certificates which are in advance stages of launching.
Adviser to Prime Minister stated that National Saving provided, through its various products, an important avenue for savings to a broad segment of savers and investors.  He directed the National savings management to extend maximum facilitation to its clientele especially, pensioners, widows and families of Shuhada. He also directed that work on upcoming products may be expedited.
Senior officials of the Ministry of Finance and National Savings attended the meeting.