Their small in size did not hold them back from acting like big cats when children came forward to pet them.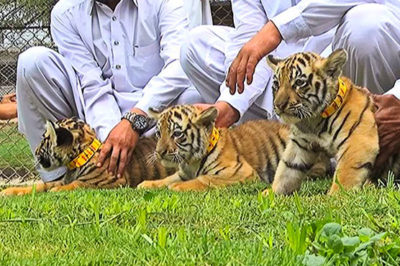 According to the zoo administration, this is the second year in a row since Polly and Umeed gave birth to three tiger cubs. Last year, Polly gave birth to four healthy cubs. With these three new additions, the zoo now has ten Bengali tigers in the zoo.
The administration has set up special care for the big cats.
Speaking to Dunya News, the zoo administration said special arrangements have been made to cater to the large family. A dedicated section of veterinary care has been set up to provide medical care and to look after the food for the family.
Bengali tigers are enlisted in endangered species around the world. The latest addition of the Bengali tigers is a proud moment for the Rawalpindi zoo administration.