Though Eid ul Fitr is called 'Meethi Eid', but the cheering cannot be concluded without the savories' sour, pungent sometimes fiery seasoned snacks and munchies.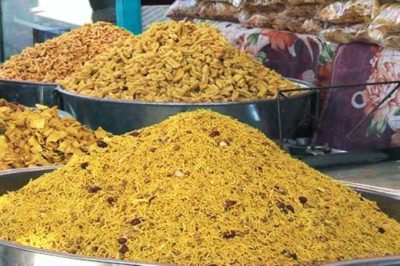 As the Eid is round the corner, stalls for the savory items like Nimco, crackers and other nutty and spicy items, have been installed in town markets and big bazaars across the country. Savors attract customers more than the sweets and sugary snacks.
Nimco being sold in a local market of DI Khan. Photo: Screenshot
During the last span of Ramazan, the shopkeepers install their booths and stands carrying savors in mini markets of Dera Ismail Khan. These stalls attract a large number of customers to their nicely decorated delicious and scrumptious hot and sharp flavored food items.
Stalls carrying savories being installed in local markets in DI Khan. Photo: ScreenShot
These items are usually termed as, Nimco and are available in many savory and tangy flavors and in spicy and sulfury colors. The most demanded ones are lentils nimco, Basin Nimco and dry nuts nimco. People also present these as gift items to their loved ones.
Those who don't or won't take much saccharine are presented these munchkins along with a hot cup of tea or a chilled-bottle of soda water.
'Meethi Eid' tastes more delightful with these savories, pungent and hot Nimcos.