AT 9.30pm, Shazia and her cousins hire a rickshaw to take them to a hand pump half an hour away from where they live. They load up the day's dishes in the front, with cans, bottles and buckets in the back. The women hang on to whatever they can as the driver zooms through the neighbourhood.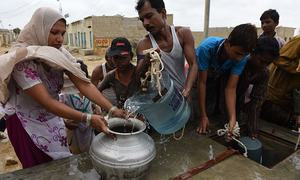 "This is part of our daily routine," says Shazia. "This is where we get our daily supply of ground/bore water. We use it for cleaning, washing, sometimes even to drink."
"(Potable) water is too expensive for us," she continues. "We can't get tankers. We can't afford to spend Rs3,000 every week on water." Pointing towards the buckets and pots stacked against a wall in her kitchen, she adds: "This is what our children drink now. It makes them vomit, it makes them sick, but no other option is available to us."
For as long as the 35-year-old can remember, the availability of water has been an issue in Lyari. "When I was 10, my family used to send me with a bucket to fetch water. They didn't send me to school because they thought I was more useful as a porter," she muses. "It's a dangerous job. Many girls from my street have got into nasty accidents, been run over by big cars and in some extreme cases, have even been shot."
I ask her to explain. "When the gang war was at its peak it was dangerous for us to go out at night to fill up our bottles but there was no other choice," she recalls. "The roads used to be dark. A girl we knew was shot in the neck because she was caught in the middle of a crossfire between two gangs."
Lyari is one of the many areas in the city facing a severe water shortage, which many allege is due to bad management. An expert who previously worked with the Karachi Water and Sewerage Board (KWSB) claims that traditionally, Lyari is at the tail end of the system and due to the lack of pressure from the Dhabeji pumping station, receives a low flow.
"The water they have access to — groundwater — is mostly contaminated," he adds, referring to it as "filtered sewage".
Shazia's cousin, Zulekha, says that survival is hard. "We go to work at a towel factory at 9am, then come home after dinner and have to head out immediately to wash up and fill up on the next day's water supply," she explains.
According to women in Lyari's Ali Mohammad Mohalla, Baghdadi and other neighbourhoods, they have to line up at the RO plant, hand pumps and sometimes at each others' houses to access water — "something that should be accessible to us for free costs us more than gold," says Zulekha.
Their neighbour, an 80-year-old known as Amma, says she's lived in Lyari since Partition and the situation wasn't very different then. "I was born here, married here, had children and still not a drop of water in my taps," she tells Dawn. "My kitchen is dry. If I don't go get water from the RO plant, I won't have anything to drink. But my daughters live in Malir and they don't have water there either."
Across the city in Baldia Town, the situation appears worse. A man who claims to manage a legal water hydrant says they get water every two weeks for three to four hours.
"There is a population of about 400,000 to 500,000 people here but we barely get enough water for 250 people," he says. "One tanker, which is about 1,200 gallons, is sold for Rs1,200 here. Around the corner from the truck stop women line up for days. They spend their nights here in the hope of snagging a tanker or finding out when the water is coming. We only receive information an hour in advance. I can only do much, I don't have water at home either, you know," he adds.
According to him, there's a water shortage in the city as the Hub dam has dried out and "since the Sharifs came into power".
In Pehlwan Goth, Naseem works as a beautician. She says she spends nearly Rs100 a day for drinking water. "We have an electric pump for groundwater for our daily use but I don't think this arrangement will continue for long as our electricity bill was around Rs10,000 last month," she explains. "I got the pump installed in my house during Ramazan and share it with people in my street because otherwise we would have to wake up at the crack of dawn to go to the nearest RO plant or public hand pump."
Former president of the water tanker association Sikandar Saeed claims the water crisis took an about-turn when more than 100 illegal water hydrants in the city were demolished. "The industries had no groundwater to use, so they started going after drinking water — this worsened the supply/demand curve," he says. "If nothing is done soon, the crisis will get worse and people will be killing each other for water."