Meeting of the Standing Committee on Cabinet Secretariat held in Parliament House, Islamabad
Islamabad: (Asghar Ali Mubarak) Meeting of the Standing Committee on Cabinet Secretariat held in Committee Room No. 7, Parliament House, Islamabad this Afternoon with Rana Muhammad Hayat Khan, MNA in the Chair.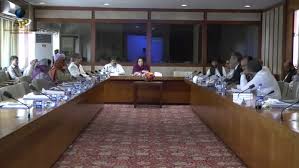 The Committee discussed the performance of PIA and directed that the new management of PIA may take stringent measures to overcome the sustaining losses of PIA by improving its performance and come up with the proposals so that Committee could take them at appropriate forum for their amicable solution.
The Committee expressed concern over the non-professional attitude of Cabinet Division & Printing Corporation of Pakistan (PCP) officials as they were unable to purchase the modern machinery for printing purposes to meet the requirement of the up-coming general Elections despite the fact that advance payment was released to the quarter concerned. The Committee directed that Cabinet Division may review the viability before purchasing such machinery after the up-coming General Elections and proceed accordingly.
The Committee approved the budgetary proposals of Cabinet Division & Civil Aviation Division (CAA) relating to PSDP for the Budget 2018-19. The Committee deferred the remaining agenda till its next meeting.
The meeting was attended by Sardar Muhammad Irfan Dogar, MNA Malik Ibrar Ahmad, MNA Mr. Asad Umar, MNA Ms. Parveen Masood Bhatti, MNA, Ms. Shehnaz Saleem, MNA, , Ch. Khalid Javaid Warraich, MNA,  Ms. Nighat Parveen Mir, MNA, Mr. Rasheed Ahmed Khan, MNA, Abdul Hakeem Baloch, MNA, Rana Muhammad Qasim Noon, Ms. Nafeesa Inayatullah Khan Khattak, MNA, Ms. Farhana Qamar, MNA, Dr. Mahreen Razzaq Bhutto, MNA and mover Dr. Nikhat Shakeel Khan, MNA and Secretaries of Establishment Division, CAA, and other senior officers of the concerned Ministries/departments.