PESHAWAR: The Peshawar Electric Supply Company has announced 6 to 10 hours power outages on Saturday (tomorrow) in parts of Khyber Pakhtunkhwa due to maintenance work and installation of power pylons.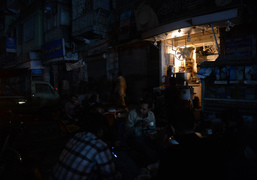 According to a Pesco statement here on Thursday, owing to installation of power pylons in the limits of Hayatabad, Jamrud and Peshawar University the power supply will remain suspended from 6am to 12 noon. Loadshedding will be carried out from Sheikh Mohammadi Grid Station which will also affect the residents of Khyber-1 and 2 and Hayatabad 9 feeders from 7am to 12 noon.
In Mardan, the consumers will face power suspension from 7am to 1pm in areas, including Baghe Iram, Charsadda Road, City-2, Rural-1, Nisatta Road, Gujar Garhi Old, Duranabad, Dang Baba, Gaju Khan, Eidgah, Bala Garhi Zando, Garhi Kapoora, Sheikh Maltoon, Rashakai, Bughdada New, MMC, Ahmadabad and New Toru, while the residents of Saleem Khan will face inconvenience from 6am to 4pm.
The residents of Shahdand, Babini, Tawas, Malakand Road, MES, Par Hoti, Shankar, Jehangirabad, Narai Wala, Takht Bhai, Old Takkar, Umerabad, Katlang, Badraga, Lund Khwar Old, Hari Chand, Shergarh Old, Ghazi Baba, Kalu Khan, Ismaila, Yar Hussain Old, Cadet College, Bakhshali and Sawaldher will be affected from 7am to 1pm.
The Pesco will also suspend power supply from 7am to 1pm in Swat, which will inconvenience the people of Mingora 1, 2, 3 and 4, Gulkadra, Takhtaband, Bandai, Haji Baba, Saidu Baba, Qambar, Marghuzar, Kabal 1, 2, 3 and 4, Malam Jaba and Barikot. In Lower Dir, the consumers will face power suspension for the same period in Timergara, Maidan, Lal Qilla, Toormang, Akakhel, New Mayar, Warsak, Samar Bagh and Tormang.