STANDING COMMITTEE ON KASHMIR AFFAIRS & GILGIT BALTISTAN ENDORSED THE PSDP FOR THE FINANCIAL YEAR 2018-19.
Islambad: (Asghar Ali Mubarak) The 36th meeting of the Standing Committee on Kashmir Affairs & Gilgit-Baltistan was held today in Parliament Lodges, Islamabad under the Chairmanship of Malik Ibrar Ahmed.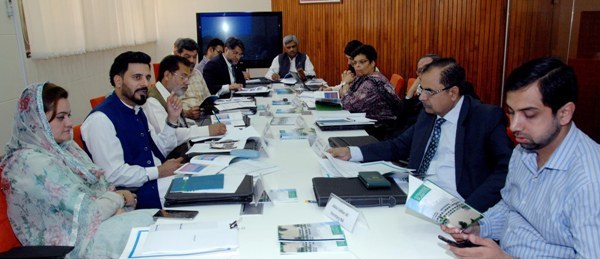 2. The Secretary Ministry of Kashmir Affairs and Gilgit Baltistan and Senior Officers of the concerned Ministries of AJ&K and Gilgit Baltistan briefed the Committee about the development projects especially; energy, health, education, tourism and forest sectors and requested to enhance their allocations.
3. After the briefing, the Members put various questions regarding the proposed projects under Public Sector Development Programme (PSDP) 2018-19 and finally endorsed the proposals of the Ministry of KA&GB with the remarks that all projects should be completed according to prescribed specifications & standards within time frame in the best public interest.
4. Appreciating the efforts of Gilgit Baltistan Government in afforesting the area, the Chaired desired to share the Detailed Plantation Schedule as well as its monthly progress with the Committee. The Chair also desired the Committee to visit the proposed road site which will connect Gilgit Baltistan with Tajikistan. The Committee showed satisfaction over the performance of Gilgit Baltistan Government for initiating public service projects. The Chair asserted that the Committee, on behalf of Government of Pakistan, wants to convey to the people of Gilgit Baltistan that their development is given due priority.
5. The meeting was attended by the Hon. Members of the Committee namely; Mr. Khalil George, Mr. Nasir Iqbal Bosal, Sardar Mumtaz Khan, Mrs. Shamas-un-Nissa, Dr. Shazia Sobia, Mr. Junaid Akbar, Syed Waseem Hussain, Molvi Agha Muhammad, MNAs, Federal Minister for Kashmir Affairs & Gilgit Baltistan Ch. Muhammad Barjees Tahir and Senior Officers of the Ministry of KA&GB, AJ&K Government and Gilgit Baltistan Government.