NA BODY TOOK SERIOUS NOTICE OF IRREGULARITIES COMMITTED WHILE FILLING THE VACANT POSTS OF LOWER STAFF IN PAKISTAN POST
Islamabad: (Asghar Ali Mubarak) The Committee expressed dissatisfaction over the violation of service rules for filling the vacant posts in Pakistan Post. The Committee was of the view that irregularities have been observed in the procedure adopted for appointments of lower staff in Pakistan Post. The Minister disagreed with the viewpoint of the Committee however; assured that the matter of illegalities in filling the vacant posts will be investigated and action will be taken against the responsible. The Minister further clarified that the matter is sub-judice at the stage. The Standing Committee on Postal Services met today in Parliament House under the Chairmanship of Syed Iftikhar-ul-Hassan, MNA.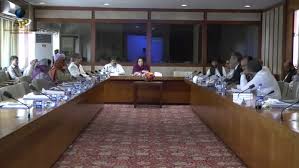 The Committee further discussed the budgetary proposals of the ministry for the current financial year 2018-19. The ministry has demanded Rs. 346.903 million for construction / renovations of post offices all over the country. The Committee endorsed all the budgetary proposals relating to Public Sector Development Programme (PSDP) for the next financial year 2018-19.
The following MNAs, Mr. Ghulam Muhammad Lali, Sardar Mumtaz Khan, Syed Muhammad Athar Hussain Shah Gillani, Ch. Khadim Hussain, Mr. Bhawan Das, Mr. Shah Jehan Baloch, Ms. Shahida Rehmani, Mr. Lal Chand Malhi, Engineer Hamid-ul-Haq Khalil, Mr. Muhammad Muzammil Qureshi, Ms. Asiya Nasir and Ms. Aisha Syed were present in the meeting.