TIMERGARA: A woman head constable, Rehmat Jehan assumed duty as the first lady 'moharar' at the Balambat police station here on Tuesday.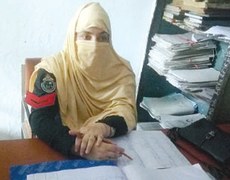 Women rights' activists lauded the step taken by district police officer Arif Shehbaz Wazir terming it beneficial for women folk in the area.
Talking to Dawn, Ms Jehan, 28, hailing from Madak Lasht Darosh village of Chitral, said she had joined police department in 2012 as a constable. With a graduation degree, Ms Jehan after successfully completing her B-1 and lower school course at police training centre, Hangu, wished to be appointed as 'moharar'.
"It is my ambition to reach to the posts of SHO and DSP and serve the people, especially helpless women," she said, adding she never felt any hesitation or fear to work in the male-dominated society like Dir and Chitral. She said one of her sisters too wanted to join the police department after completing her studies.
Expressing her pleasure on posting as moharar at the police station, Ms Jehan said she would like to help out women complainants at the station. "I want to prove that women from conservative societies can also serve the nation," she added.
Meanwhile, DPO Arif Shehbaz Wazir told Dawn another lady head constable, Shagufta Bibi had also been posted in the women reporting centre of Talash police station.
He said a total of 46 women constables were serving in Lower Dir police, of which, the educated ones would be encouraged to be promoted to next ranks. He said there was an intense need for a women police station in Lower Dir.
The DPO said in near future lady 'moharars' would also be appointed in all the 13 police stations of the district.