CJ Lahore High court Mansoor Ali Shah took notice of the rape and subsequent brutal killing of eight-year-old girl in Kasur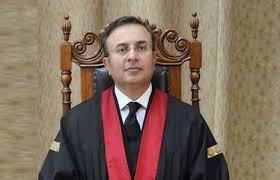 Lahore (Court Reporter) The Lahore highurt (LHC) Chief Justice Mansoor Ali Shah on Wednesday took notice of the rape and subsequent brutal killing of an eight-year-old girl in Kasur city of Punjab.
The Chief Justice has summoned report on the matter from session judge.
The inhuman act stirred anger among the citizens leading to violent protests in different parts of the city with a few protesters armed with sticks storming the District Police Officer's (DPO) office on Wednesday.
Meanwhile, Chief Minister Punjab Shehbaz Sharif also ordered the police to arrest the culprits immediately.
The unfortunate incident relates to Zainab, who went to a tuition centre near her house in Road Kot area on Thursday last week when someone abducted her, at a time when her parents were returning home after performing Umrah.
The kidnapping panicked the family members of Zainab, who toiled hard for her recovery but to their dismay, police recovered the dead body of the girl which was found dumped near garbage pile near Shahbaz Road on Tuesday.
The body was sent to the District Headquarters Hospital for autopsy where the doctors confirmed that Zainab was raped multiple times before she was murdered.
As soon as the report was handed over to the guardians of Zainab, a wave of sorrow and resentment gripped the city following which the traders shuttered their shops and staged a protest demonstration.
Scores of citizens also gathered at Steel Bagh Mor near the hospital and staged a demonstration by keeping the body in the middle of the road. They halted the traffic by burning tyres on Ferozepur Road and chanted slogans against police and law enforcers.
The severity of the incident could be gauged from the fact that the District Bar Association (DBA) had announced a boycott of court proceedings on Wednesday (today) to express solidarity with the bereaved family.