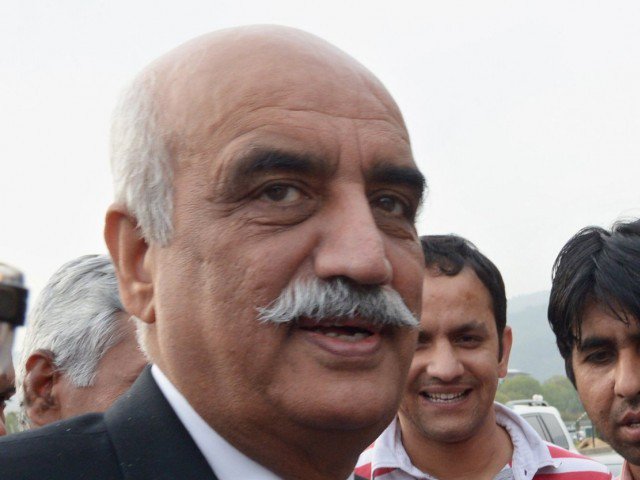 Leader of the Opposition Khursheed Shah, while holding a press conference in Lahore on Friday, raised questions over Nawaz Sharif's impending visit to Saudi Arabia.
"Today, the nation is watching. The people are interested in knowing why Shahbaz Sharif is in Saudi Arabia and why Nawaz may be visiting soon."
According to a party source, Nawaz may depart for the Gulf kingdom on Saturday. His younger brother is already in the Gulf state on an "official" visit. The chief minister had been flown by a special plane of the Saudi government on Wednesday. He is believed to have levelled the ground for the visit of the elder Sharif.
"Now if something comes to pass and Saudi Arabia intervenes, then it would be shameful that Pakistan — a nuclear power — cannot make its own decisions," Shah said.
"We should have our own policies and our own rule of law. We should be making our own decisions and it makes me sad that we look to others for support," he added.
Answering a question regarding Nawaz's visit, Shah said, "It looks like the matter may be moving towards forgiveness and that a National Reconciliation Ordinance (NRO) may be on the horizon, which is sad."
"If such a situation arises, I think we would have to send our judiciary big locks to shut the courts and go home."
The opposition leader also spoke about the Inter-Services Public Relations' (ISPR) reaction to Khawaja Saad Rafique's comments on the army's chain of command.
"I have heard the minister for railway's speech. I do not think that it warranted such a major reaction from the ISPR," Shah said.
Director General of ISPR Major General Asif Ghafoor on Thursday had criticised Rafique's remarks regarding junior officers' apparent lack of commitment to the army chief's orders and said, "The statement was extremely irresponsible and unwarranted, as it targets the chain of command. The Pakistan Army is a disciplined institution and the army chief's orders are followed without question."