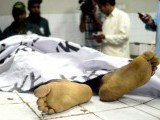 Our Correspondent
RAWALPINDI: 
At least three people were had to be rushed to the hospital on Saturday after they were struck by stray bullets fired near a wedding ceremony in Dhoke Syedan, locals said.
However, it was not clear whether the bullets had been fired into the air by revelers or whether they had been fired by a group at another.
According to details, guests were attending the Mehndi function of Muhammad Saghir in Dhoke Syedan late on Friday night. Initial details suggested that unidentified people had resorted to aerial firing during the wedding. As a result, 14-year-old Ali Akhtar, 17-year-old Abdul Raffay, and 23-year-old Niaz Yaqoob received bullet wounds to their legs.
Rescue staff rushed to the spot and shifted the injured to the District Headquarters Hospital where doctors described the condition of the three were said to be out of danger.
However, SI Mazhar Iqbal at the RA Bazaar police said that they had registered a case over the incident and had included charges of attempted murder. He added that the FIR had been registered on Yaqoob's complaint.
Iqbal further said that Yaqoob in his complainant accused Sattar Khan, Jabbar Khan, Bilal Gul, Safiullah and three other unidentified men of deliberately shooting at them during the marriage ceremony. The investigation officer said that the both sides had reportedly had a quarrel over some petty issue a few days ago.
In response to a question about aerial firing during the event, the police officer said that the practice was prohibited under the law and due legal action would be taken against those who resorted to aerial firing and those who were managing the event.
Man killed in traffic accident
In a separate incident, a man died in Gujar Khan when a speeding truck rammed a tractor-trolley parked on the side of the GT Road.
According to information shared by Rescue 1122, they received a call about the accident at about 5 am and they rushed to the spot. They said that they found 34-year-old Niaz Muhammad dead and 40-year-old Umer Farooq, slightly injured.
Officials added that the trolley had been parked on the side of the road near Missal Kaswal town heading towards Lahore when a speeding truck rammed it from the back. The dead and the wounded were shifted to the Tehsil Headquarters Hospital for treatment and other formalities.